BELLY DANCE LATIN FUSION RETREAT
25 – 29 November 2020
Empower, heal and transform yourself through dance and movement with 15 classes over 5 days in various styles of graceful Belly Dance and Latin dances, from beginner to advanced levels.
Covering combinations, complex choreographies, technique, posture for movements, counts, isolations, footwork, arm-work, musicality and so much more! This retreat will leave you feeling worked-out, inspired and eager to learn even more.
Qualified instructors with expert knowledge, worldwide experience and tons of positivity to send your way in an amazing 5 days.
WEDNESDAY
25th Nov

THURSDAY
26th Nov
FRIDAY
27th Nov
SATURDAY
28th Nov
SUNDAY
29th Nov
6.00pm - 6.45pm

BEGINNER's Belly Dance

6.30pm – 7.30pm

SHAABI 'of the people casual' Style Belly Dance
6.30pm - 7.30pm

DRUM SOLO Belly Dance
11am – 12 noon

Belly Dance FLOORWORK Techniques
11am – 12 noon

SALSA Fusion

6.50pm - 7.35pm

INTERMEDIATE Level Belly Dance

7.40pm - 8.40pm

Belly Dance SHIMMIES
7.40pm – 8.40pm

TRIBAL FUSION Belly Dance
12.10pm - 1.10pm

Belly Dance VEIL & TURNS Technique
12.10pm - 1.10pm

BACHATA Fusion
7.40pm - 8.40pm
ADVANCED Belly Dance
3pm - 4pm

BELLY BOLLY Fusion
3pm - 4pm

REGGAETON Fusion
4.10pm - 5.10pm

Belly Dance COMMERCIAL STREET Fusion
4.10pm - 5.10pm

SALSA ON2 (On count 2)
Online retreat. Limited spaces – Only 30 passes available!

Sign up before 15th November 2020, for the early bird discount. The price increases after this date.

If booking the '1 Day Pass', please email info@discoverdanceuk.com to let us know which specific day you will be attending.

All classes and materials will be accessible online for students who have paid, for 3 weeks after the retreat ends

Bring a friend discount – You are entitled to £20 off the full price (£10 off the early-bird price), for any friend you recommend the retreat to who ends up signing up. This friend cannot be a current student of Discover Dance UK.

10% of the proceeds will be going to the NHS

Dance Style

s

explained

at the bottom of the page

YouTube Video examples

of dance styles found here: https://www.youtube.com/user/anitamakwana/videos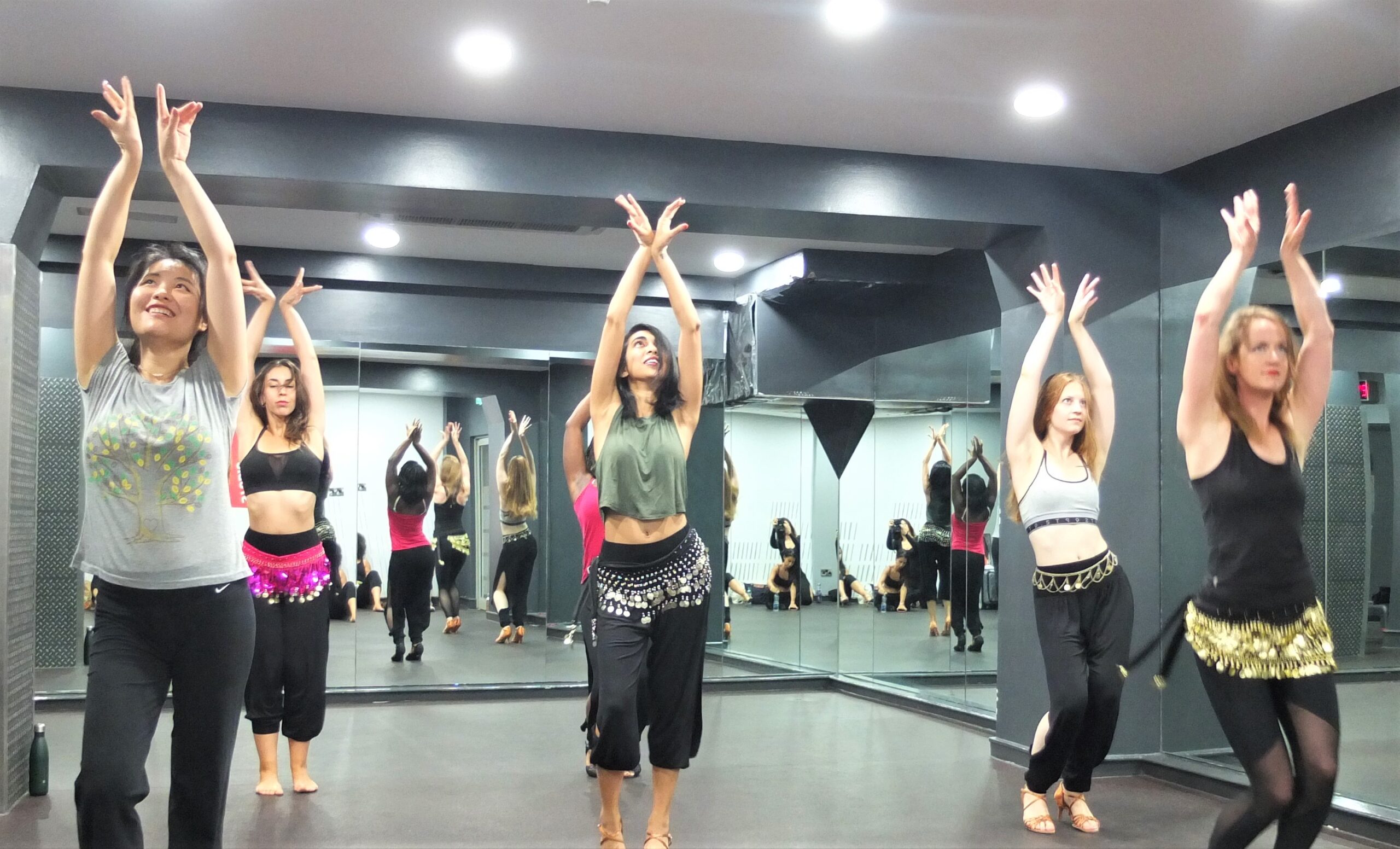 DANCE STYLES EXPLAINED:
BEGINNERS BELLY DANCE
An introduction to the addictive art of Belly Dancing. Discover the basic level 1 moves, build core strength, improve posture, learn isolations, tone, learn different styles of belly dance and shimmy lots in this class!
INTERMEDIATE BELLY DANCE
Push your skills further and challenge your technique, learn level 2 movements, strengthen muscles, refine isolations, learn various styles and combinations. Some belly dance experience required, but not essential.
ADVANCED BELLY DANCE
Train your brain and form yourself into a true belly dancer! A faster paced class with lots of layering, multiple technique, isolations, varied drills and combinations from smooth and flowy techniques to empowering pops and locks. Accumulate all the skills you have learnt in previous classes thus far. Challenge yourself as a dancer with intricate movements, pops, locks and complex drills, fun combinations, precise isolations and use level 3 movements.
SHAABI
Shaabi (meaning of the people) is the music and voice of the streets in Egypt and the lyrics of shaabi songs are usually about politics, personal life or love.
Dancewise, Egyptian Shaabi style is playful and flirtatious, a bit 'cheeky', with a strong folkloric influence. This style is full of feeling! The movements are earthier without many spins, nor big travelling steps; steps are mostly on flat feet and the style is funky, bouncy and upbeat.
SHIMMIES
Exploring the vast range of shimmies to include, Egyptian shimmy, tension shimmy, shimmy layers, twist shimmies, hagalla 3/4 shimmies, Turkish shuffle, shoulder shimmies and choo choo shimmies!

DRUM SOLO
This course covers moving your body percussively using pops and locks, accents and punctuations. The music is exciting which enables rapid sharp movements combined with softer shimmies, travelling movements and fluidity. Control isolations and learn belly dancing at a very fast pace through this mindful and intricate style of belly dancing. A drum solo piece can leave an audience in absolute awe.
TRIBAL FUSION
Move your body in a snake like manner with tribal fluidity contrasted with sharp pops and locks! Extreme control of movements and strong isolations will be encouraged to enable you to move like water with precision, grace and deep expression. A beautiful dance that has been created from a combination of worldly dance styles with intense music and deep dark sounds.
FLOORWORK
Strength-based seamless floor-work maneuvers to showcase a dancer's range of skills and repertoire. Embellishment postures, safety techniques, transitional movements to get on and off the floor and sequences of layers and drills with floor-work.
VEIL
In this course your veil is your dance partner! Learn to dance gracefully with a veil: poses and postures, flourishes and turns. Your arms will be strengthened and you will learn how to create graceful movements with them. Your upper body strength and posture will also improve and you will get moving across the room and dance floor with true refinement, elegance and grace! You will need a long rectangle scarf or veil for this class.
Class includes perfecting the range of turns, to include paddles turn, travelling turn, step turn, speed control, core control, arms with turns and generally improving the precision and connection of turns with other movements.
BELLY BOLLY FUSION
An energetic, rhythmic, fun fitness dance exercise to great music. Combining several forms of Indian and Bollywood dancing combined with Belly Dance that will have you moving and working your whole body! Higher and lower-intensity dance sequences to get you moving, sweating and smiling.
COMMERCIAL STREET BELLY DANCE FUSION
Urban street dance that was a social dance created outside of studios and on the streets, combined with the beautiful grace of belly dance. What a mix! Sharp locks and pops, combined with fluidity, waves and grace to create a mesmerizing dance.
SALSA FUSION
 Learn the energetic style of salsa dancing combined with the beautiful grace of belly dance. This class captures everyone from the get go because of the addictive music, Latin flavour, powerful rhythmic patterns and interesting footwork. A class that will leave you feeling like a diva! Passionate, fierce and sensuous.
BACHATA BELLY DANCE FUSION
The sensual style of Bachata dancing originating from the Dominican Republic in the Caribbean, consisting of three-steps and then a tap or various forms of step syncopations combined with beautiful belly dancing. These two dance forms make a perfect amalgamation as they both make lots of use of the hips!
REGGAETON & BELLY DANCE (Bellyton)
A Puerto Rican dance form strongly influenced by Latin American, Caribbean, and hip hop music. It's a fun, full of flavour and a free-spirited style of dance popular for its body waves, lower body isolations, locks, pops, groove and attitude! Large movements that compliment Belly Dancing accurately and a full body and mind workout that will leave you sweating and glowing with confidence. You can't help but move your body rhythmically when you hear this music!
SALSA On2 FUSION
On2 Salsa is commonly known as New York Style. Also known as "modern mambo". Dancing to salsa music on count 2 is a brain and body challenge where you will have to focus and train your mind to master this suave and fun style.
Disclaimer and warning:
Before beginning any of the exercises within the retreat or whilst taking part in any class, please consult your doctor, especially if you are taking any medications, if you are pregnant or have any physical, mental, neurological or health issues that may impact or affect you whilst taking part. Such individuals are specifically warned to seek professional medical advice prior to initiating any form of adjustment to their current way of living, especially as a result of the information contained within this retreat.
The information contained within the retreat are not intended to cure or treat any disease or ailment, but rather is a program to maintain and possibly encourage and and/or support good health. It is not a substitute for regular and proper medical care.